STARK, Ian Douglas
1954 - 2020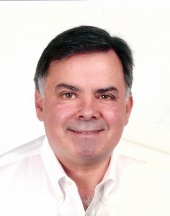 Ian Douglas Stark
1954 - 2020
We announce with profound sadness the passing of our father Ian Douglas Stark at Chartwell Lord Landsdowne Retirement Residence in Ottawa on May 30, 2020.
Ian was born on November 21, 1954 in Ottawa to Dorian James Stark and Patricia Catherine Stark. He was predeceased by his parents Dorian (Sept. 1989) and Patricia (Nov. 2019) 
Ian is survived by his daughter Allison Stark and husband Juan Gonzalo Soares and his son Conor Stark. He is also survived by brothers David Stark (Elizabeth Forsyth), Richard Stark (Helen), Michael Stark (Cynthia), and sisters Anne Stark (Dan Heard) and Joan Stark, as well as his many cherished nieces and nephews.
 Ian had returned to Ottawa last June to be closer to family after living in Richmond, Virginia for many years.
 Ian  was fascinated by science and medicine, and marvelled at cutting edge technology.  He advanced with several medical firms and received every sales achievement award available. He worked with surgeons in many major hospitals in the Eastern United States.  He formed his own successful multi-line sales agency in Richmond which allowed for his early retirement due to deteriorating health. 
 In his youth Ian was a formidable athlete in all sports and an ardent lifelong fan. He played football, fast ball with the Sarnia city all-star team and basketball, including winning a city championship with Northern Collegiate. Despite his sub six-foot height, Ian made the varsity basketball team, at his alma mater Carleton University (Ottawa, Canada) where he graduated with a B. Com. (Honours) degree. 
 He was an enthusiastic historian and fierce antique collector.
 Ian's thoughtfulness, kindness and courage touched everyone he met.
 We will miss the family times; his insights and his boundless idealistic romanticism that shaped his world view and inspired those around him. His commitment to family was unwavering.
 Due to Covid-19, there will be a memorial service at a later date with interment in Sarnia when circumstances permit.
 (Charitable Donations: Ottawa Hospital Foundation (focus on research and specifically the dialysis unit).
Write your sympathies or tribute