IVES, Pauline A. H.
1931 - 2022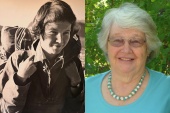 Pauline A. H. Ives
1931 –2022
With great sadness, we announce the passing of Pauline Angela Hadfield Ives on September 16, 2022, at the age of 91. Dearly beloved wife of Jack D. Ives, cherished mother of Nadine, Tony (Mary Ann), Colin (Rebecca) and Peter (Adele) and grandmother of Adrian (Lisa), Galen (Jenna), Angela (Sarah), Nell (Morgan) and Theo, Pauline was also a friend and support to so many.
Pauline was born in Elland, Yorkshire, to Melvyn Tennyson Cordingley and Amy Cordingley (née Cartwright). She was a true Yorkshire lass, although she and her younger brother, Peter, spent their growing-up years in Sheerness, Kent. During WWII, Pauline was evacuated to Wales with her classmates for two years. Decades later, she could still sing the Welsh songs she learned there. As a young woman, she enjoyed bicycling and hiking trips with friends and the Girl Guides, becoming a competent adventurer, developing skills that would prove invaluable in the coming years.
At a university geography conference dinner, reaching for a chair next to the keynote speaker, Pauline caught the eye of a geography student from Grimsby. Jack and Pauline joined separate student expeditions to Iceland, but Jack managed to visit Pauline at Myvatn. They recently celebrated their 68th anniversary. After their wedding in Sheerness, they caught the liner SS Atlantic and emigrated to Canada, where Jack began his doctoral studies at McGill University, Montreal. Those Girl Guide skills came in handy when Jack and Pauline spent summers in the wilderness, two in the Torngat Mountains and one on Indian House Lake with only canoe, tent, a few provisions and each other, conducting research and hoping the float plane would come to pick them up in September as planned.
After welcoming their first child, Nadine, in Schefferville, Quebec, where Jack was Director of the McGill Subarctic Research Lab and Pauline worked in the bank, the library and led the local Girl Guide group, the family moved to Ottawa, Ontario, where over the next few years Tony and Colin were born. In 1967, the family moved to Boulder Colorado, where Peter was born. For many years, Pauline welcomed friends, neighbours, her children's friends, and students and visitors from around the world into her home. She was renowned for her hospitality in Boulder and later in Davis, California, and in Ottawa where Pauline and Jack returned for their retirement in 1997. Returning to Ottawa meant re-connecting with friends from the early years in Canada and making new friends, as well as welcoming a growing family.
Pauline volunteered extensively in local schools and in the Unitarian church. As her children grew older, she returned to her work as an editor. Pauline and Jack together founded and for 20 years co-edited the scientific journal, Mountain Research and Development, which became the leading journal of its kind.
In addition to her warmth and hospitality, Pauline was known for her quick wit, humour, gumption, and pragmatism. Road-trip mishaps with Pauline at the helm of four kids tended to turn into glorious misadventures with many laughs. She always had the right toys and activities for any child entering the house – whatever their age and interests. She was a great role model for parenting.
She is dearly missed. Her loving memory continues as a positive presence in lives of her family and all who knew her.
We thank the Ottawa Hospital Home Palliative Care Team and all of those who provided home care for Pauline in her final months. We are especially grateful for Heather for her wonderful support.
Write your sympathies or tribute