ALBINATI, Albert Andre
1930 - 2020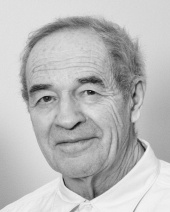 ALBINATI, Albert A. June 13, 1930 – August 1, 2020.
Albert Albinati, 90 passed peacefully at home in Ottawa, ON. 
Albert was a kid of the Prairies. Born in Bezanson, Alberta he grew up on the family farm, taking a horse to school, and spending his summers in the fields. Albert cut his own path to Calgary to drive for Greyhound and launch his first foray into real estate, as the owner of a small downtown walk-up. It was there that he met his spouse of 51-ish years, Frances Emily (Smith). He lived amongst the Bridgeland Italian community, who accepted him as family.
Moving back to the Peace Country, with Frances' eye for design and Albert's sense of adventure, they built a modern Scandinavian-inspired A-Frame home amidst the fields – "fun on the farm." An innovator and entrepreneur, Albert was amongst the first to plant "yellow flowers" (canola) up north and to import blonde Simmental cattle through the purchase of his treasured "Soleil 18606."
Returning to Calgary in the 80's, Albert reinvented himself as a Real Estate agent and amateur wine maker with the DeSantis family.
Albert later built a retirement lakeside retreat for he and Fran on Lac Ste. Anne, or mânitow sâkahikanihk (Plains Cree for "god's lake"). They called it "Walden West" and their love of gazing out over the lake and nurturing the landscape together was pure poetry. It was there that Albert was once again embraced by his local community. His volunteer work with the Pilgrimage site and its links to the local Indigenous People brought him great joy, meaning and friendship. Albert spent his days gardening, and willowing with his niece Arlie and his locally adopted brothers and sisters for whom he felt such love.
Albert was a devout Catholic. Following his son's marriage and, as he would chuckle with a twinkle, his subsequent disappointment that he no longer was destined to be the father to the first Canadian Pope, Albert reinvented himself again by moving "East" to Ottawa. Here, he lived in close proximity to his family. His gardening became legendary in the community, beautifying St. Patrick's Parish, helping feed the local food bank, and provide surprise local produce to restauranteurs and delighted neighbours.
In his later years, he continued to love gardening; attending Mass in any language within walking distance; walking the dog/getting walked by the dog; dancing, especially to Stompin' Tom Connors with his young grandson Angus; opining on water flow from high to low ground; watching his grandkids play sports; sharing family meals; visiting with his niece Marcene; and in his last days, watching tennis.
Albert is survived by his spouse Frances, and his family: Andre (Corianne), Leah (Dave) and Sydney, as well as numerous grandchildren, great grandchildren, nieces, and nephews. Predeceased by Rachel Cameron (Glenn), his parents Oscar and Lidwine, and his siblings, Lou, Germaine and Nelly.
A special thank you to the residents and care giving staff at Billingswood Manor. Donations are encouraged to Shepherds of Good Hope. A Mass will be said in Albert's name at St. Patrick's Basilica.
Funeral Cooperative of Ottawa
www.fco-cfo.coop
613-288-2689
Write your sympathies or tribute