YOUNGS, Constance Joan
1932 - 2019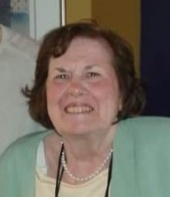 Constance "Joan" Youngs (née Grant), aged 87, of Milton, and most recently of Constance Bay, ON, passed away peacefully at the Queensway Carleton Hospital on Saturday, May 25, 2019, with her family by her side.
She is survived by her devoted son, Ian Theodor Grant (Marie MacKeen) of Constance Bay, ON, brother Angus (Mac) Grant (Judy) of Kingston, ON, and many wonderful nieces and nephews. She was predeceased by her husband, Harvey Clarke Youngs; her mother, Marjorie Helen Grant (née Cotton); stepmother, Blanche Grant; father, Angus Macmillan Grant; and sisters, Elizabeth Mack, Barbara (Paul Bjornsson), and Sybil Grant.
Joan was born in Belgrave, Ontario, on April 6, 1932. Her lovely dry wit, humour, and demure smile were ever present. She fondly remembered her happy childhood, moving with her family throughout Ontario while her United Church Minister father attended to the spiritual needs of his many congregations. She loved to tell stories of her youth and particularly enjoyed sharing tales of her wonderfully, mischievous brother slyly liberating her baking from the family kitchen.
Joan's working life began as an RNA at Hamilton's Mountain Sanatorium. Her career, always focused on helping others, continued in customer relations at Canadian Pacific Airlines, initially in Vancouver, BC before returning to Toronto where she continued with CP Air and its many successors over the next 40 years. Her need to help others is what drove Joan, and after retirement she continued to volunteer in her community. Joan happily shared her knowledge and provided aid to others especially during their fragile stays in hospital.
Her son's lifelong admiration for her strength of character and the devotion of her motherhood comes from the difficult early years, when as a single parent, in an age when that was not the norm, she nurtured and raised him, while wholeheartedly supporting him. Joan was a constant influence in the formation of Ian's own moral and ethical compass, drive, and determination.
Joan and her family are truly grateful for the amazing and dedicated PSWs, caregivers, doctors and nurses, all extremely talented professionals, who showed great compassion and empathy towards Joan. We'd also like to express our most sincere appreciation and thanks to family and the many friends who assisted us with Joan's care over the past few years.
A celebration of life for Joan will be held with her family in September; information to follow at https://www.fco-cfo.coop/en/.
Joan will not be forgotten.
Write your sympathies or tribute