NERA, Eduardo
1929 - 2023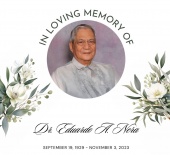 Dr. Eduardo A. Nera, departed peacefully on November 3rd, 2023, at the Civic Hospital. "Lolo," as he was lovingly called by many, was surrounded by his family.
 Ed was born and raised in San Fernando, La Union, Philippines. He grew up with his Mom, who was a teacher, three Aunties who were also teachers, and had very close bonds with his two older brothers, Ben and Tante.  
 After his elementary and high school, he attended the University of Santo Tomas for his medical degree.  Shortly thereafter he met Nena, the love of his life.  Ed romantically courted her for five years, taking the bus for many hours across Manilla to visit with her.  
 They were married on June 24th, 1956 and soon afterwards, moved to the US where Ed continued his medical and specialty training in Pediatrics and Pathology.  
 In 1964 the family moved to Ottawa, Canada. Ed was on staff  as a Pathologist at the Ottawa Civic Hospital for several years and then moved on to Health Canada as a Research Scientist.  
 A pioneer in the establishment of a firm foundation of the Filipino-Canadian Association of the Ottawa Valley, Ed served as its second President.
Ed and Nena celebrated their 67th Wedding Anniversary on June 24, 2023. Ed fathered four devoted children, Eduardo-Gerard (Melanie), Dorothy-Lauren (Alberto), Edmund-Lawrence (Maria) and Edwin-Andrew (Laura); and was blessed with eight grandchildren - Tammy, Jason, Paolo, Carlos, Ben, Andreas, Wyatt and Harper; doubly blessed with a great-grandson, Eddie Beau.
"Tito Doc" leaves a legacy of a strong Patriarch who lived by St. Augustine's teaching, "the greatest invitation to love is loving first."
The Nera family wishes to thank the staff of the Ottawa Civic Hospital and St. Vincent Hospital for the excellent care that they provided to Ed.
 The Celebration of Life Mass was officiated by Father Martin Dyanabo, Parish Priest of St. Elizabeth Parish, Father Pete Arana from the Philippines, and Deacon Victor Gallamos from Vancouver.  It was held Wednesday, November 8th, 2023 at St. Elizabeth Church on Leaside Avenue, Ottawa.  
Write your sympathies or tribute