SKOK, Elizabeth
1931 - 2020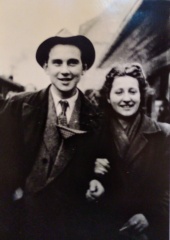 Elizabeth Skok
1931-2020
Our dear mother Elizabeth Skok (nee Korolkiewicz), born in Wilno, Poland (now Vilnius, Lithuania), February 9, 1931, passed away peacefully in her sleep from natural causes in Ottawa, Canada, on May 26, 2020. Predeceased by her husband of over 68 years, Anatol Skok, in January 2018, her mother Natalia Ushakova in 1990, her father Lukian, her brother Casimir and her stepfather Nikolai Skriabin. She is survived by her children Margaret, George (Alexandra), and Vladimir (Anna); her grandchildren Tatiana (Kevin), Adrian, Nicolai (Alisa), Ilya (Kealey), Alexei (Angela) and Daniil; and her great-grandchildren Jack, Henry, Lukian and Nina.
When the Red Army and the Nazi forces divided Poland in 1941, Elizabeth and her mother were in Soviet territory while her father, Lukian, was detained and disappeared. In 1945 they ended up in Salgau, Germany, where she attended the Russian high school (Gymnasia) and then worked in a lab. She met her future husband Anatol, and they were married in a civil ceremony in April 1949 before sailing separately for Canada, both on the steamship Samaria. She arrived in Halifax in November 1949. Shortly after they were reunited, and became the first couple to be married in the new Holy Resurrection Russian Church in Winnipeg. Their blessed union lasted nearly 69 years.
Because of the war our mother was not able to pursue all her talents, ambitions and education, but she passed them on to her children and later her grandchildren.  Our parents had three children, and were passionate in raising them. Despite limited finances, as new Canadians, Elizabeth always encouraged them to aim high in scholastic achievements, to take music, dance and sports lessons depending on their interests, and strove to expose them to Russian and other nations' culture – music, theatre, literature, ballet, art, museums, history. An avid reader, there were always many books on her bedside table. She shared her knowledge across the range of picking mushrooms, maintaining a garden, and how to win at chess. And, of course, she taught them about the Orthodox Church and set them on the path on which they try to remain today.
When the family moved from Winnipeg to Ottawa in 1962 to be closer to their relatives in the east, she found a position with National Revenue, and achieved a management position over the course of her 25+year career. In her 50s, she bravely got a driver's licence and bought a car so as to independently drive eight hours from Ottawa to visit and comfort her mother who lived in a Russian retirement residence just north of New York City.
In 1967, Elizabeth and Anatol purchased a small plot of land on a little lake not far from Ottawa, and established the family dacha, which has been the beloved retreat of successive generations.
After retiring, Elizabeth travelled to Europe to research and reconnect with long lost family members in Poland and Russia, scattered due to revolution and war.
She loved and lived her culture, but was also a proud Canadian, and had a welcoming, inclusive approach to all the communities in which she passionately participated - family, church, work, neighbours, friends. For example, she endured and survived, without complaint, several bouts of cancer, and then was an avid and positive participant in weekly aqua-fit sessions to regain her strength, and became a spokesperson for the survivors' group, inviting them to the cottage and her home on many occasions.
She was one of the founders and builders, with our father Anatol, of St. Xenia's Russian Orthodox Church in Kanata, Ontario. With her tax background, Elizabeth helped manage a family foundation for the church project, and contributed to parish growth through organization of many events including fundraising balls. She also sponsored parish youth in attending conferences and liturgical arts training. While her health permitted, she greeted regular parishioners and, more important, new worshippers at the door with open arms. You could count on her to stay for parish luncheons to connect. She was warm with everyone, her house was always open to all. She was a great listener and provided wise and practical advice to her family on life matters. Elizabeth even told her daughters-in-law that if there were ever disputes between them and her sons, she would side with them and not her sons!
She adored, nurtured and inspired her six grandchildren and four great-grandchildren, even as her energy and health ebbed. After her husband's death she had to relocate, eventually to the Garden Terrace Long-Term Residence in Kanata, Ontario. Our heartfelt thanks to the staff there for without exception for making her feel, during her last years here on earth, loved, cared for, comfortable and safe. We send our gratitude also to the father and son team of family doctors, Drs. David and Michael Malek, for their exceptional care for our mother and father over the course of many decades. We are also grateful to Father Oleg and Matushka Olga Mironov for their frequent visits and spiritual support given to both our parents.
A long life, so much more than well-lived! Our mother so enjoyed dancing the tango with our father. We hope Elizabeth and Anatol are dancing again together in Heaven! Eternal memory to our loving and beloved mother, grandmother and great-grandmother!
Due to the pandemic, the funeral and burial will be limited to family. Elizabeth will be interred beside her husband at Pine Grove Cemetery near the family dacha. In lieu of flowers, should you wish to make a donation in Elizabeth's memory, we would greatly appreciate if it would go to the Kanata Orthodox Church Foundation, c/o 44 Craighurst Avene, Toronto ON M4R 1J8.
Write your sympathies or tribute