TOBIN, Gerald Kevin (Gerry)
1931 - 2021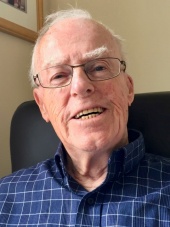 Gerald Kevin Tobin (Gerry)
June 25, 1931 – December 15, 2021
Gerry passed away peacefully on Wednesday December 15th at St. Patrick's Home of Ottawa at the age of 90 years. He is survived by his loving wife of 65 years, Shirley (nee Johnson), children Patricia (Steve Ley), Kevin (Pascale Ouellette), and Michael (Giulia De Rosa), six grandchildren and three great grandchildren.
Born in New Glasgow, Nova Scotia, Gerry moved to Montreal in 1944. There he met his love, Shirley and they married in 1956. Together, they raised their three children in the small town of Lorraine. He was very active in the parish at Holy Cross in Rosemère and a volunteer for many events and causes, often lending his voice as master of ceremonies. Gerry enjoyed a 33-year career in sales and service with Air Canada in Montreal and Mirabel, often traveling with Montreal's sports teams, before retiring in 1985. In retirement, he and Shirley were "snowbirds" in Florida, where they made many close friends. In 2001, he moved to Ottawa with Shirley and was an active parishioner at Blessed Sacrament. His last two and a half years were spent bringing joy and song to his fellow residents and his caregivers at St. Patrick's Home. Gerry's family is grateful for the wonderful care, love, and compassion shown by the entire team at St. Pat's throughout his time there.
A celebration of life will be held at a later date. In lieu of flowers, donations can be made in Gerry's memory to St. Patrick's Home Foundation and Alzheimer Society of Canada.
While we will miss Gerry dearly, we are comforted to know that Heaven's choir has gained a beautiful voice.
Links for donations:
https://stpatsfoundation.ca/tribute/
Write your sympathies or tribute