WEBSTER, Marjorie
1934 - 2020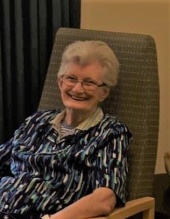 Marjorie Webster
1934 - 2020
Marjorie Elizabeth Webster (nee Glidden), born October 30, 1934 in Bathurst, New Brunswick passed away in Ottawa on May 25, 2020 at the age of 85. Marjorie lived at St Pat's long term care home since July 2014 where, for her first couple of years she was an active part of the St Pat's community, singing in the choir and happily chatting with everyone she met. The family wants to thank all of the staff at St. Patrick's Home for their outstanding care and compassion.
Marjorie was born in Bathurst New Brunswick, but at the age of 18, moved to Montreal to find work. There she met Edward and soon after they began their life and family together. Eventually moving to and settling in Ottawa, over the years they became more involved in the Annunciation of the Lord Parish.
Marjorie was kind, strong, always joyful and present in the lives of her family. Generous, kind hearted and outgoing, Marjorie's love of people made her a pleasure to be around. She was a dedicated mother, a devoted Catholic and over the years, a generous volunteer. Somehow she continued to sing, wink, and smile her way through years of dementia.
Predeceased by her parents Albert and Dorothy Glidden (nee Whelan). Beloved wife of the late Edward Joseph Webster and beloved sister in law of Kenneth (Marion Webster) loving mother to Kevin (Armande Comeau), Bonnie (Marc Valiquette), Michael (Sue Webster), the late Gail Cheff (Brent Cheff) and Sharon (Brian Cafferty). She is survived by 10 grandchildren and 8 greatgrandchildren.
She was a dear sister to William (Cecile Glidden), Florence (Frank Gehlen), Donnie (Alice Glidden), Kenneth, Reginald (Evelyn Glidden), John Wayne, Susie (Chuck Lamb), Donna-Mae, Ernest, Stephen (Philip Tran), Mary, Brenda and Carl. She will also be remembered by many cousins, nieces, nephews and friends.
A memorial service and celebration Marjorie's life will be held at a later date for family members. Interment will be at Notre Dame Cemetery in Ottawa.
Write your sympathies or tribute