KNIPE, Ronald
1924 - 2021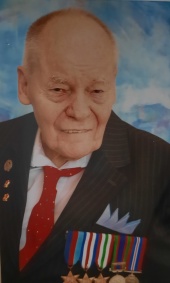 Ronald Knipe
1924 -2021
Ronald Knipe, born in Collingwood, Ontario on June 4, 1924, passed away peacefully in Ottawa on February 18, 2021 in his 97th year.
Ron, who was the last surviving of 11 children, is now dancing once again with his beloved wife Bertha (McCarthy). He is predeceased by his parents Mary (Mead) and Walter Knipe of Brentwood, Qc. Uncle Ronnie is survived by his loving nieces and nephews Heather Clarke (late George), Jim Grant (Judy), Garry Grant (Ellen), Cheryl Brown (Barry) and Barbara Engelky of California as well as many great nieces and nephews. Ron will be forever missed by his cherished friends Debbie, Gail, George and Marguerite.
Ron was a WWII Veteran who trained in Canada and Africa in 1944, and went on to London, France, Belgian and Holland where he fought on the front lines. Ron was our hero. Although quite modest he was very proud of his service to our country. After the war Ron returned and eventually went to work building the Toronto subway.
Ron was an exceptionally kind and gently soul who was always passionate about animals. He loved music and dance and cherished his friends and family. Ron was truly a remarkable man. Through all his struggles he remained positive and driven to enjoy each and everyday. Truly and inspiration and gift to those he touched.
Thankyou Ron for all the love and lasting memories. We love and miss you dearly.
Those we love don't go away;
They walk beside us every day. Unseen, unheard but always near.
Sill loved, still missed, and very dear. Wishing us hope in the midst of sorrow,
Offering comfort in the midst of pain, both today and tomorrow.
Ron will be laid to rest along side the love of his life Bertha in Chateauguay, Quebec.
Special thanks to Laura and Nelson and all the Rideau 2 North staff at The Perley Rideau Veterans Health Centre over the years who embraced Ron and gave him a new lease on life.
Donations appreciated in memory of Ron to the Perley Rideau Veterans Health Centre or to the Animal Rescue of your choice.
Write your sympathies or tribute