PATENAUDE, Yvette
1928 - 2019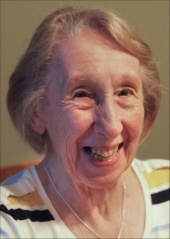 It is with great sadness that the family of Yvette Patenaude (née Bisson) announces her death on January 14, 2019, at age 90, in Ottawa.

Yvette was the daughter of the late Louis and Éva (Cayer) Bisson and the dear sister of Jeannine Desrochers, the late Roger Bisson, and the late Gerry Bisson. She was the loving mother of Jacques (Joanne), Denis (Maria Brunelli), and Lynne (Christian Lachance). Yvette was predeceased by her youngest son Serge (Danielle Laurin). She was the proud grandmother of Sophie Patenaude, of Philippe and Madeleine Lachance, and of Serge Lalande.

Yvette grew up in Ottawa, in the Saint-Jean Baptiste parish off of Somerset Street. She was fluently bilingual. Her father was a train engineer with the Canadian Pacific Railway (today's CP Rail). The family often used its rail passes to visit family in Montreal. She lived through the depression years of the 1930's, when all of the men in her family lost their jobs. Her aunts worked as secretaries in the federal government and helped to support the extended family. She decided that she, too, wanted to be a secretary, and worked almost ten years for various federal departments.

Yvette met her husband Gilbert Patenaude (known as Pat) when they were both teenagers. He was two years younger and wanted to join the army. They were part of a large group of friends and family who worked while living at home. They danced in the clubs where the big bands played (Yvette loved to dance!) and travelled together. Yvette and Gilbert waited until after his service in Korea to marry. They began many years as a military family, moving from Ottawa to Petawawa and back (where Jacques was born), on to Shilo in Manitoba (Denis joined the family), to Montreal (Serge), then finally to Borden near Barrie (Lynne). While she loved to travel, she was less happy with packing to move the household every few years!

Yvette was a wonderful and caring mother. She believed that every child is unique, and that the prime role as a parent was to encourage each child to grow in their own special way.

In 1969, the family moved back to Ottawa. Yvette returned to work as a secretary with the House of Commons, where she would remain for twenty years. Yvette and Gilbert separated in 1975. She successfully overcame cancer in her late forties. Unfortunately, the aggressive radiation treatments of the day affected her health in later life. Her greatest regret was how this limited her ability to travel to all the fascinating places that she learned about in magazines and documentaries. She passed the travel bug on to most of her kids. But Yvette loved her summer trips, including across the Canadian Rockies from Calgary to Vancouver and Victoria, to the Maritimes and Gaspé. She also visited Israel when Jacques lived there for several years, and visited Egypt as well. She travelled to London, England for a show tour, and to Portugal and to Spain with Lynne. She has eagerly followed Denis and Maria on their three-year world tour via their blog.

Yvette was a petite woman, but so strong. Humble about her accomplishments, she effectively raised four children by herself. She avidly read the newspaper and loved to talk about the news of the day. In respect of her life-long dislike at being the centre of attention, and at her request, the family is celebrating her life privately. Arrangements were made through the Funeral Co-operative of Ottawa. If desired, a donation to the Canadian Cancer Society or the Heart and Stroke Foundation of Canada would be appreciated.

She will be missed more than she could ever imagine.
Write your sympathies or tribute