BUCKLEY, David
1945 - 2020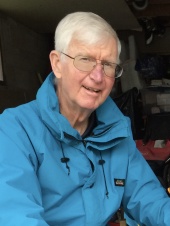 David Buckley 1945 - 2020

We have lost a great family man and friend, and although we are deeply saddened by his passing, he will always remain with us as a thoughtful, caring and loyal spirit.
David passed away peacefully in his 76th year on July 2, 2020 at the Ottawa Civic Hospital.  David was a devoted father to Jill and Louise, loving former husband to Ann and Rosie, dear brother to Tom and Terry, proud grandfather to Stefano, Sofia, Jameson and Joshua, and respected father-in-law to Marco and Jonathan.  David is predeceased by his parents, Elizabeth (Betty) and Victor, and his younger brother, Terry.
David grew up in Deep River, Ontario where he moulded wonderful memories with his parents, brothers, and close friends hunting, fishing, skating, running, and playing golf at the Deep River Golf Club.  David studied chemical engineering at McMaster University in Hamilton and completed his Master's Degree at the University of Ottawa.  Following an engineering career with the patent office of the Government of Canada, David followed his passion for golf to become an entrepreneur, custom club designer and instructor.  His love of music and record collecting also led him to partner with his brother, Terry, to distribute rare records in Ottawa and Paris. 

David will be remembered as a thoughtful, caring and loyal friend, a golf fanatic, a music lover and record collector, and a man who cherished spending time surrounded by his loving family.

Jill, Louise and the family wish to express their heartfelt thanks to friends, colleagues and the compassionate team of doctors, nurses and social workers at the Ottawa Civic Hospital and the staff at Ravines Retirement Residences.

In lieu of flowers, donations would be appreciated in David's memory to the Alzheimer Society of Canada.  Given current restrictions on gatherings, David's family would encourage and appreciate personal stories of David's friendship via e-mail to davidbuckleymemory@gmail.com.
"A father holds his daughter's hand for a short while, but he holds her heart forever."
Funeral Cooperative of Ottawa
613-288-2689
Write your sympathies or tribute