MANN, Lorna A.
1921 - 2020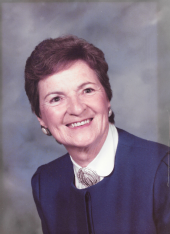 Lorna A. Mann
November 4, 1921 – July 10, 2020
What a beautiful woman. What a beautiful wife. And mother. And Grandmom. And Great Grandmom. And Great-Great- Grandmom.
And, what a beautiful person most of all.
We've just lost our Mom at age 98. A fall, a broken hip, and then a difficult recovery a few years ago didn't do it, but then dementia had its way, and ultimately, won out. She leaves us with a hole in our hearts so immense that it can only match our loss when our Dad, her handsome, dedicated, funny and bright, husband of more than 40 years pre-deceased her about twenty years ago, of the same cause.
Lorna Annabel Mann, of the Springhill, Nova Scotia, James family, was born the daughter of a coal miner. And so, at this time, it seems fitting to quote from The Coalminer's Daughter (Loretta Lynn) a song that she may have never heard: "She's gone to a distant shore; We can't hear her music anymore".
We'll miss you Mom, but your "music" will be in our hearts forever. Your daughter Linda, and son Stuart, their families and extended families, wish you the most peaceful sleep.
Honouring Mom's wishes, cremation has taken place and there will be no visitation. A memorial get-together with family and friends will be held at a later date. You may leave condolences or share memories at,
The Funeral Cooperative of Ottawa
613-288-2689
Write your sympathies or tribute